Event Pro Admin
Complete Database System | For Event Organizers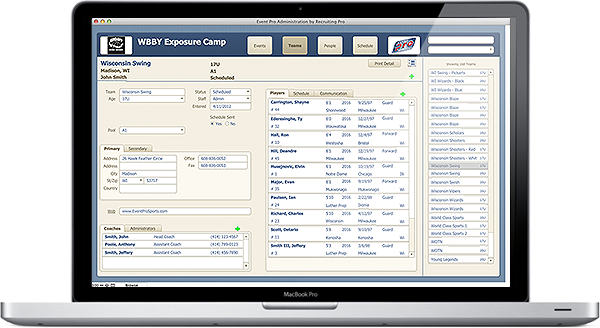 The Event Pro Admin system is a time saving tool providing increased efficiency in creating the coach's packets, as well as a highly optimized system for organizing event data (Players, Teams, Games). For certified events, the data from the NCAA website is processed by the Event Pro Admin system and validated to the NCAA rules and presents it in a format to easily identify and correct any potential violations. This also eliminates manually cutting and pasting rosters into a document. Each event will have a separate, independent desktop system with a fully searchable database of all the players, coaches, and teams in your event that can be easily exported for future use by your staff.
The Scoring Pro iPad app provides and easy, paperless alternative for keeping the official book. Rosters are imported from the Event Pro Admin system, to ensure all players checking in to the game are registered to play in the event. Once game scores are submitted, they automatically advance teams and game results are published on your website.
The Online Roster Management system enables teams to enter their rosters online prior to the event. Teams will be able to log in with a password to add, edit, activate, or de-activate players on their team. These rosters are maintained in the Event Pro Admin system, and can be used in the Scoring Pro iPad app.
The Event Pro Admin Scheduling Module allows you control of the schedule while allowing maximum efficiency by never double entering. Once the schedule is set, reports are generated for team, pool, and court schedules for your use or to publish on your website. The Event Pro Admin Schedule Module also seamlessly integrates with the Event Pro coach's app and Scoring Pro iPad app.
By partnering with Event Pro Sports, your event will be highlighted in personalized, state of the art emails to over 3,000 college coaches promoting the partnership with Event Pro Sports. The Event Pro app provides cutting edge, next generation technology to college coaches and evaluators, pushing your event to the forefront of modern recruiting.
Contact Event Pro Sports for contract and pricing information for the use of Event Pro at your next event.